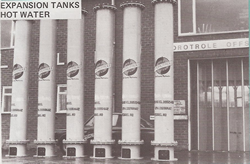 PRESSURE VESSELS
Pressure vessels have been our business for years and range in capacity from 50cm3 -1000 litres up to 3 tonnes weight per unit. They are available in 316 stainless or mild steel either electroless nickel plated or painted 30 microns epoxygrip primer, 2 coats highbuild epoxy at 100 microns and final metal pigment anodic sacrificial protection 30 microns min. Vessels are normally built to comply with the most stringent requirements of authorities: A.I.B., A.P.A.V.E., T.U.V., A.N.C.C., T.R.C., A.S.M.E.V111., DET NORSKE VERITAS, BUREAU VERITAS, LLOYDS and A.O.T.C. Available for volume expansion contraction compensation, water hammer, fire prevention systems, emergency shut-down, emergency shut-in, etc..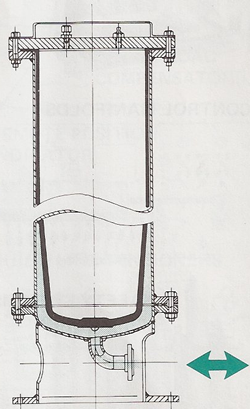 WITH ELASTOMER BAGS OR LININGS
Our separator vessels are ideally suited for use on BCF/Foam/Water storage tanks for fire control systems. Our rubber technologists can supply formulations of elastomers to suit most requirements and include Hypalon, Buna-N, Viton, Silicone and E.P.T., giving a temperature range of -30°C to +200°C and bladders which will be compatible with most known fluids. We even make CONDENSATE KNOCK OUT POTS for instrument hookups.
FUTURE NEEDS
The range of Sour Oil Sample Bottles was from a request (as a result of this expertise), by our agents, WI LSON SUPPLY CO. for Moore, Barrett & Redwood and Expro. Yarmouth that cleanable units be designed. If you have a LARGE pressure SMALL vessel problem please ask for H.OS.L. contribution.