HYDROPNEUMATIC EQUIPMENT OFFSHORE MARINE
Stainless Accumulators
Stainless Volume Indication Accumulators
Best Multipurpose Stainless Accumulators
Heave motion compensators
Hydro-pneumatic exploration and production APPLICATIONS
Pipe shock , "water hammer" & surge.
Pulsation Dampers
Diaphragm Type Pulsation Dampeners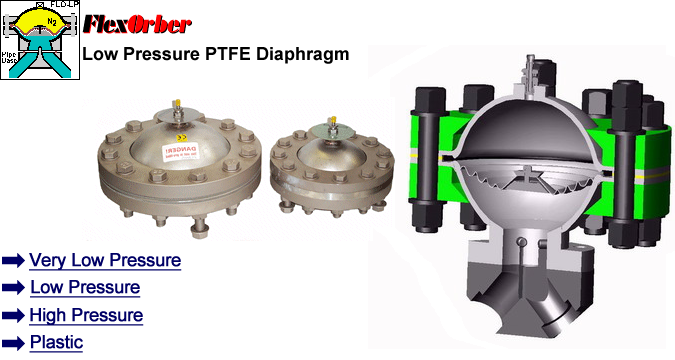 PTFE FLEXFLON MEMBRANES Featuring:
AGRESSIVE CHEMICAL
Typical chemical metering pumps are matched by flow smoothing dampeners from this 0.5 - 16 Liter Flexorber LP range of 12 damper sizes.


FORCING RESPONSE from PTFE
As PTFE / Teflon ® / Flexflon™ is a stiff un-responsive diaphragm material, the Flexorber pulse dampners force response to pulsation by causing the flow to go through the dampening chamber - with seperate inlet and outlet connections.


HIGHER FREQUENCY ABILITY
This same flow-through feature that cause reaction to volumetric flow fluctuation, also enables high frequency pulsation to be intercepted and damped.


IN PLACE FLUSHING
These Flexorber low pressure pulsation dampers are also in place flrow-through flushable between each different chemical compaign.


SMOOTH SURFACES
In place flushibility plus an exra polishing operation makes the Flexorber LP an often specified design for food, drug, and liquid chromatography use, with Tri-Clamp or IDF connections.
---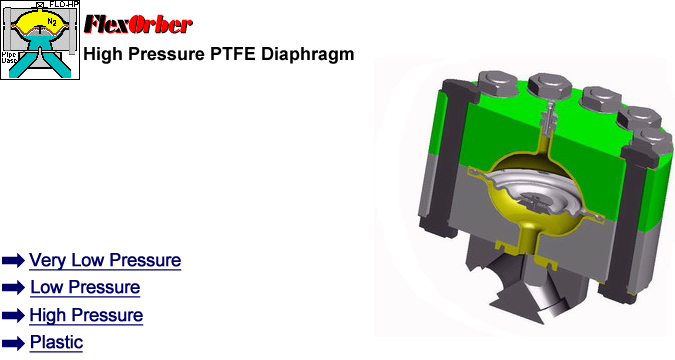 SECONDARY CONTAINMENT - HAZARD ALERT Featuring:
MATCHES "SANDWICH" AND "SEALED" DIAPHRAGM PUMPS
High performance diaphragm process pumps with rupture detection often deployed as the main fluid mover for large flow rates of liquids that are compressible and so need jacowski pulsation & shock surge pulsation suppression.


EVEN PYROFORIC SERVICE
Flexorber pulsation dampers with flow through and several hot nitrogen flush connections are ideal for pyrofores.


WITH VSG DRIVES
When API 675 pumps are used in API 674 application because of their "sealed - hermetic" high pressure designs. Flow contol of these "metering" pumps is by variable speed drives. Variable speed results in a wide range of forcing frequencies. Only the multi-port flow through FlexOrber pulsation dampeners can match the system needs.


DIAPHRAGM CHOICES
Please see http://www.pulsation-damper.co.uk/Pulsation-damper-PTFE-Diaphragm-Stainless-housing-Low-Pressure.html top right corner for diaphragm alternates that go from the most robust to ultra sensitive covering all pulsation damping requirements.


NOT BELLOWS
Pulseguard also offer bellows type dampeners, but as a bellow is the most crevatious form of membrane the smooth PTFE daiphragm surface in a flow though housing of the Flexorber HP dampner is generally process preferred.