HYDROPNEUMATIC EQUIPMENT OFFSHORE MARINE
Stainless Accumulators
Stainless Volume Indication Accumulators
Best Multipurpose Stainless Accumulators
Heave motion compensators
Hydro-pneumatic exploration and production APPLICATIONS
Pipe shock , "water hammer" & surge.
Pulsation Dampers
Liquid in Bladder Type Pulsation Dampeners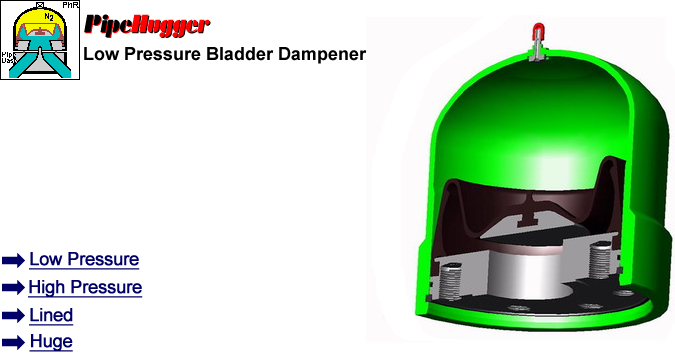 LARGE DIAMETER DAMPENERS for Low Pressure and Suction Featuring
---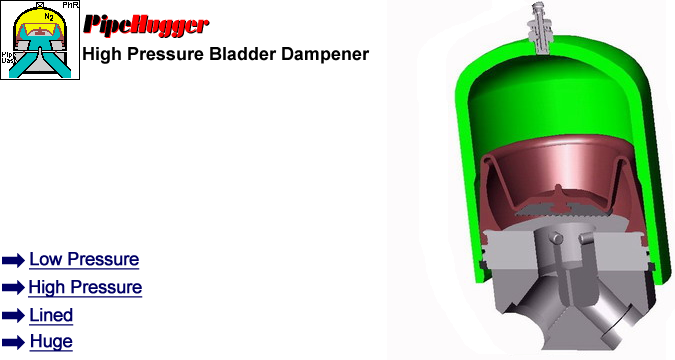 LARGE DIAMETER DAMPENERS for High Pressure and High Frequency Featuring
PULSATION DISSIPATION
Are best at dampening pressure pulsation as a pressure spike entering a large diameter chamber from a smaller hole, dissipates before it can reflect from the vessel wall.


ASSURED RESPONSIVENESS
The greater dimension provides area for separate inlet outlet conections - this gives in-line flow-through pulse interception. Interception ensure the response that dampens the pulsation.


COMPETITVE HOUSINGS
The bladder has liquid inside, the process fluid does not contact the shell, the shell is available in low cost epoxy coated carbon steel.


PARTICULATE SUITABILITY
Thoroughly suitable for sludges and slurries, and solids carrying applications. When the bladder flexes it shakes all particulate loose - it is not packed into a "cake" against the damper wall, as in gas bag dampners.


PULSATION IS DIRECTIONAL
Full 180 degrees flow direction change causes all transients to impinge on the flexible membrane.