HYDROPNEUMATIC EQUIPMENT OFFSHORE MARINE
Stainless Accumulators
Stainless Volume Indication Accumulators
Best Multipurpose Stainless Accumulators
Heave motion compensators
Hydro-pneumatic exploration and production APPLICATIONS
Pipe shock , "water hammer" & surge.
Pulsation Dampers
Gas in Bladder Type Pulsation Dampeners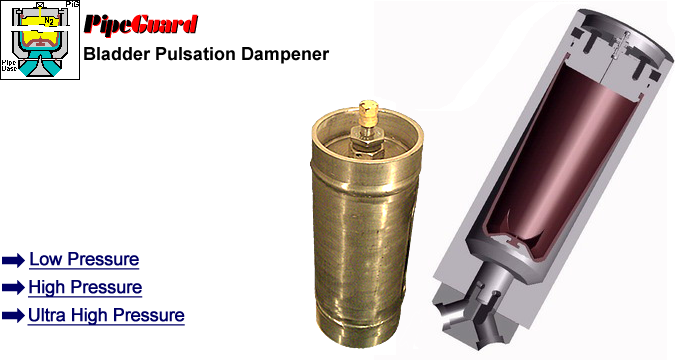 SMALL DIAMETER PULSE DAMPNERS Featuring
FLOW STABILIZATION
Are excellent flow fluctuation stabilizers.


HIGH PRESSURE AT LOW COST
"PipeGuard" "Slim Line" range dampeners are extremely competitive for high pressure application.


FOR SALINE ENVIRONMENTS
With full stainless steel construction are ideal for offshore oil and gas control sytems.


GREATER INTEGRITY
The gas bag "bladder" in this damper design is a seamless one piece molding; greatest compatibility and integrity.

Common Elastomer Availability from MEMBRANO_FLEX Ltd. Div of LDI Ltd for you to choose from:-
Information Source - edited from "KEVIN-TECH" aka Kevin Bebb's Technical Notes - LDI Ltd. in-house proprietary , since 1963. The compound ingredient percentages are chosen by LDI Ltd. to cause similar physical properties, and from advice by the Rubber& Plastics Research Association (aka RAPRA.) and others. :-

In the uncured / un-polymerized state,: To be easily transfer-injectable over distances greater than 3x the item diameter, without the use of long oil alkids etc. for plasticization.

In the cross linked / polimerized state, to have :-



Elongation at break in excess of 600%
UTS greater than 2000 psi (140 bar)
IRH Shore "A" scale hardness 55-60
Good compression set resistance for seal-points
The use of "non-leaching" plasticizer - IE that crosslinks within the cured material
No Sulfur


MATERIAL TO CHOOSE FROM.
Note - "LDI" are not compatibility engineers. Be sure to check your selection against the "O" rings Seal, gasket,valve diaphragm, pump packings that have proved satisfactory for your system.


LONGER LIFE
The anti-extrusion plate of this pulsation dampener can not jam like stem guided poppet valve.