Stainless Accumulators / One Piece Bladder Type
Stainless Steel HydrAcc bladder type accumulators are popularly for use in oil and gas industry exploration and production shut-in systems. Small HydrAccs achieve this requirement. Suspension or counterbalancing has required large and heavy components; when converted to hydraulic linear actuators or cylinders attached to hydraulic and hydro pneumatic accumulators there is always a weight and cost saving. Bladder type accumulators are not recommended for emergency standby power applications because when the fails it is not progressive and determinate, it is sudden and total.
Stainless steel housings from heavy walled stainless for Hi pressure injection systems, ex/eg. Methanol injection up to 15000 psi 1000Bars, Corrosion inhibitor/Amines and other special applications including Duplex Stainless (2205, F-51, UNS S31803) and Super Duplex Stainless (2507, UNS S 32750).
Part Numbers / Sizing
Small
HAcc

-.25Lt-B57x98-310Bar-1/2"BSP-316
HAcc

-.66Lt-B62x207-172Bar-3/4"BSP-316
HAcc

-1.25Lt-B72x315-172Bar-1 1/2"BSP-316
Medium
HAcc

-2Lt-B98x300-186Bar-1 3/4"BSP-316
HAcc

-2.8Lt-B123x250-159Bar-1 1/2"BSP-316
HAcc

-3.3Lt-B123x295-159Bar-2"BSP-316
HAcc

-4Lt-B139x205-172Bar-2"BSP-316
Large
HAcc

-8Lt-B139x420-172Bar-3"BSP-316
HAcc

-11Lt-B195x360-241Bar-4"BSP-316
HAcc

-20Lt-B230x500-241Bar-4"BSP-316
Information About: Part Numbers / Sizing
The prefix "HAcc" inserted where "HydrAcc" is located denotes this design: i.e. gas inside one-piece molded bag.
The number following the prefix that is followed by the letter "i" denotes the number of cubic inches nominal volume. Units of 16.39millilitres, there are 61 cubic inches in one liter.
The B reference is the diameter followed by length of the one piece molded bag. This is also the spare part reference for a new bag / bladder.
The number preceding the letter p is the design pressure, this should be used for working pressures up to 85% of the p figure assuming that the system relief valve requires a 15% over pressure to fully open.
The inch number denotes National Pipe Thread taper size.
A letter needs inserting following the 316. The letter replaces ?? and denotes the elastomer of the membrane to be used ex/e.g. N = Buna-N / Nitrile, V = Viton, etc.
---
Stainless Steel HydrAcc Accumulator Applications
Application(s) or example(s) that save peak hydraulic horsepower energy levels and reduce capital costs for pumping systems, whilst increasing control precision.
Typically the dual certified 316/316l grade stainless steel versions of HydrAccs are used for systems in corrosive environments especially within the splash zone on offshore platforms.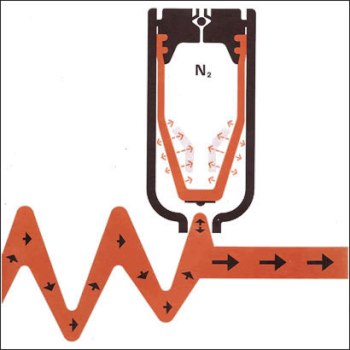 ---
Stainless Steel HydrAcc Accumulator Assembly
HydroTrole accumulators are easy and simple to assemble without specialized tooling or equipment; including spares, repairs, and recertification capability.

The example accumulator disassembly animation to the right, and the views below, are of Stainless Steel HydrAcc Bladder Type Accumulators.