Plastic Accumulators / One Piece Bladder Type
Plastic HydrAcc bladder type accumulators are popularly from PVC or from polypropylene for the accumulation of water purification industry specialty fluids with difficult materials compatibilities.
Plastic housings with Hypalon & other elastomers for Ferric Chloride and Hydrochloric Acid resistance.
Part Numbers / Sizing
Small
HAcc-PLAS

-.016Lt-B25x50-16Br-1/4"NPT-??
HAcc-PLAS

-.033Lt-B25x50-16Br-3/8"NPT-??
HAcc-PLAS

-.6Lt-B44x75-20Br-1/2"NPT-??
HAcc-PLAS

-.25Lt-B57x98-17Br-3/4"NPT-??
HAcc-PLAS

-.5Lt-B57x173-10Br-1"NPT-??
Medium
HAcc-PLAS

-1Lt-B63x214-9Br-1"NPT-??
HAcc-PLAS

-1.5Lt-B98x232-8Br-1 1/4"NPT-??
HAcc-PLAS

-3Lt-B139x178-7Br-1 1/2"NPT-??
Large
HAcc-PLAS

-5.9Lt-B139x325-7Br-2"NPT-??
HAcc-PLAS

-8Lt-B139x420-7Br-2"NPT-??
HAcc-PLAS

-20Lt-B230x500-6Br-3"NPT-??
Information About: Part Numbers / Sizing
The prefix "HAcc" inserted where "HydrAcc" is located denotes this design: i.e. gas inside one-piece molded bag.
The number following the prefix that is followed by the letter "i" denotes the number of cubic inches nominal volume. Units of 16.39millilitres, there are 61 cubic inches in one liter.
The B reference is the diameter followed by length of the one piece molded bag. This is also the spare part reference for a new bag / bladder.
The number preceding the letter p is the design pressure, this should be used for working pressures up to 85% of the p figure assuming that the system relief valve requires a 15% over pressure to fully open.
The inch number denotes National Pipe Thread taper size.
A letter needs inserting following the 316. The letter replaces ?? and denotes the elastomer of the membrane to be used ex/e.g. N = Buna-N / Nitrile, V = Viton, etc.
---
Plastic HydrAcc Accumulator Applications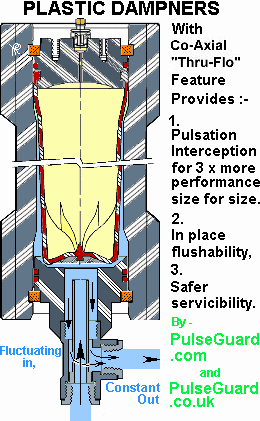 Application(s) or example(s) that save peak hydraulic horsepower energy levels and reduce capital costs for pumping systems, whilst increasing control precision.
For use in the water treatment industry for the production of potable water and also purified water feeds in water hydraulics plastic components are used not only for compatibility but because of cost, at low pressure.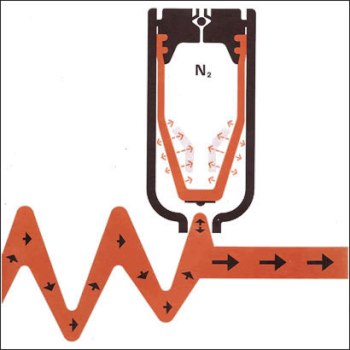 ---
Plastic HydrAcc Accumulator Assembly
HydroTrole accumulators are easy and simple to assemble without specialized tooling or equipment; including spares, repairs, and recertification capability.

The example accumulator disassembly animation to the right is of a Stainless Steel HydrAcc Bladder Type Accumulator.