Carbon Steel Accumulators / One Piece Bladder Type
Carbon Steel HydrAcc Bladder Type Accumulators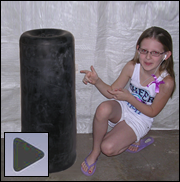 "Big bladders, made in one piece, no bonds, no glue, no seams.
Maximum integrity, for critical quality reliability application
like BOP Stack Accumulators, where you MUST HAVE the
hydraulic power in reserve."
Hydrotrole has already invested in the tooling for your surety.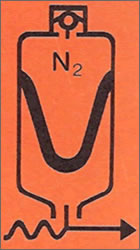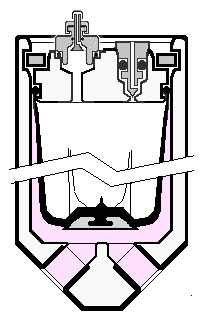 Carbon Steel HydrAcc: For or use in non-corrosive fluid power hydraulic systems as a pressure compensator for leakage, a hydro pneumatic spring for suspension systems and counterbalances in fork trucks, combine harvesters, machine tool heads and marine applications, stand by emergency shut-down power systems, for valve actuators and, general power pack intermittent high flow rate energy conservation.
Carbon Steel & Nitrile/Buna N for Oil Hydraulic applications. EP for Fire resist fluids, Viton for Hi temp systems.
Part Numbers / Sizing
Small
HAcc

-.25Lt-B57x98-310Bar-1/2"BSP-CS
HAcc

-.66Lt-B62x207-172Bar-3/4"BSP-CS
HAcc

-1.25Lt-B72x315-172Bar-1 1/2"BSP-CS
Medium
HAcc

-2Lt-B98x300-186Bar-1 3/4"BSP-CS
HAcc

-2.8Lt-B123x250-159Bar-1 1/2"BSP-CS
HAcc

-3.3Lt-B123x295-159Bar-2"BSP-CS
HAcc

-4Lt-B139x205-172Bar-2"BSP-CS
Large
HAcc

-8Lt-B139x420-172Bar-3"BSP-CS
HAcc

-11Lt-B195x360-241Bar-4"BSP-CS
HAcc

-20Lt-B230x500-241Bar-4"BSP-CS
Information About: Part Numbers / Sizing
The prefix "HAcc" inserted where "HydrAcc" is located denotes this design: i.e. gas inside one-piece molded bag.
The number following the prefix that is followed by the letter "i" denotes the number of cubic inches nominal volume. Units of 16.39millilitres, there are 61 cubic inches in one liter.
The B reference is the diameter followed by length of the one piece molded bag. This is also the spare part reference for a new bag / bladder.
The number preceding the letter p is the design pressure, this should be used for working pressures up to 85% of the p figure assuming that the system relief valve requires a 15% over pressure to fully open.
The inch number denotes National Pipe Thread taper size.
A letter needs inserting following the 316. The letter replaces ?? and denotes the elastomer of the membrane to be used ex/e.g. N = Buna-N / Nitrile, V = Viton, etc.
---
Carbon Steel HydrAcc Accumulator Applications

Application(s) or example(s) that save peak hydraulic horsepower energy levels and reduce capital costs for pumping systems, whilst increasing control precision.
For use in mining hydraulic systems and in machine tool work holding applications it is a necessity to maintain pressure for relatively short periods in systems that are controlled by spool valves that experience low levels of leakage. Small HydrAccs achieve this requirement. Suspension or counterbalancing has required large and heavy components; when converted to hydraulic linear actuators or cylinders attached to hydraulic and hydro pneumatic accumulators there is always a weight and cost saving. Bladder type accumulators are not recommended for emergency standby power applications because when the fails it is not progressive and determinate, it is sudden and total.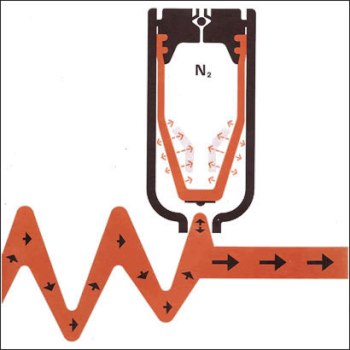 ---
Carbon Steel HydrAcc Accumulator Assembly
HydroTrole accumulators are easy and simple to assemble without specialized tooling or equipment; including spares, repairs, and recertification capability.

The example accumulator disassembly animation to the right, and the views below, are of Stainless Steel HydrAcc Bladder Type Accumulators.