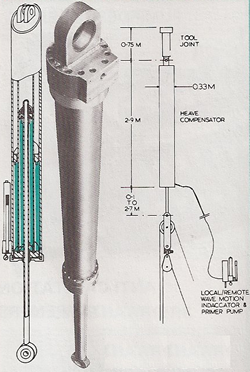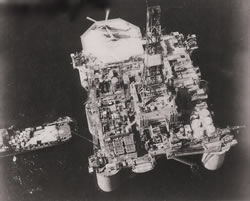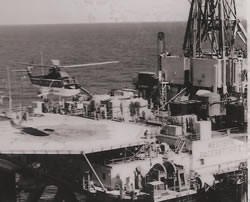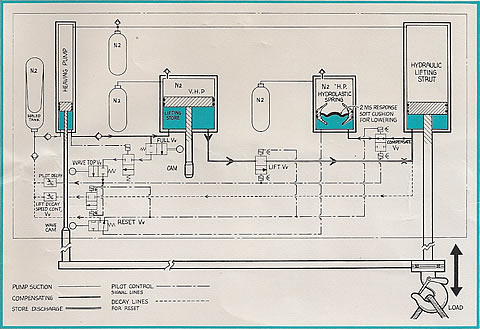 HEAVE MOTION COMPENSATORS
Using proven Hydrotrole hydraulic accumulator and cylinder technology and expertise the HYDROCOMP series of heave wave motion compensators provide the ultimate in safety reliability and performance. The unique co-axial construction - the accumulator actually surrounds the hydraulic ram - not only makes this the most rugged unit on the market, it also saves on deck space and weight. Hermetically sealed "dead" side of cylinder, retaining a slight positive Nitrogen pressure, prevents corrosive atmosphere being sucked in every stroke - a major problem with conventional systems. Elimination of hydraulic piping, double piston seals plus PTFE linear bearings between all wearing surfaces ensures maximum reliability and minimum down time.

RISER TENSIONER
Minimum sheave diameters are 30 x rope O.D.; all sheaves run on double taper roller bearings. NOTE :- HYDROCOMP linear compensators are now supplied with LlMISLIP over travel friction grip deck clamps and INDACC remote position indicators.

MOORING SYSTEM
Based on either axial or co·axial linear accumulator layouts mooring snubbers for tensioning loads up to 150 tons per single cable with stroke (line take up) capacitors up to 30 feet. Utilising minimum of deck space tensioners may be mounted vertically or horizontally. Structural integrity not less than maximum load x 3.